🏷️ €16600
Hardware + Software + 1Y Software Update and Support Included.
+€2800 for each additional Year.
| The MX-HUB is all you need to plug-and-play or embed a 4G/5G network-in-a-box solution, and many more features such as making phone calls and/or deploy edge service. Formally, it is an integrated all-in-one multi-x 4G and 5G networking platform with a backhauling option allowing to rapidly deploy a standalone network or a mesh network (Currently up to 3 hops). It has a small, compact and portable form factor, making it possible to embed it in your system. | |
| --- | --- |
What is included in the MX-HUB product?
Industrial-grade portable small-form-factor compute node with minimal energy consumption (40 W)
Industrial-grade 4G/5G end-to-end networking stack (RAN+CN+IMS) with 40MHz bandwidth in SISO (70 Mbps in DL, and 20 Mbps in UL)
Integrated PCI-e SDR, Antenna and accessories
4G/5G network manager
User-interface in a form of CLI to instrument the network
4x pre-configured SIM cards with the PLMN of your choice
Access to open documentation in a form of tutorials, API references, deployment examples and lab manual
Available Options:
Higher data rate up to 600 Mbps in downlink and 100Mbps in uplink.
4G/5G Backhaul link
near-RT RIC and xApps.
Red Hat Realtime kernel
Open Source 4G/5G stack with OpenAirInterface with USRP B2xx or N3xx
Battery Powered (9V to 24V DC full range)
Customizable form factor.
For additional options, please contact us.
---
Typical performance of MX-HUB in FR1, 40MHz, 2x2 MIMO configuration (Indicative values)
| Metric | Measured Value |
| --- | --- |
| Max DL Throughput | 130Mbps |
| Max UL Throughput | 20Mbps |
| Average RTT (128 bytes ping) | 10-18ms |
| Maximum number of users | 16-64 |
| Range | 20m (extendable to 1km) |
For more detail performance values, please contact us.
---
MX-HUB Embeded hardware platform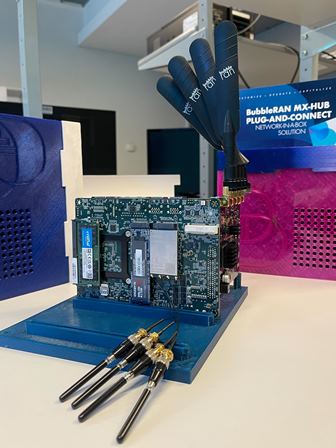 ---
Benefits of MX-HUB for Integrator, Verticals or Operators
Low-cost, low power consumption (40W),
Small and compact form factor, light-weight, portable or embeddable (1.5kg)
Plug-and-connect 4G/5G networking (as easy as wifi access point)
Coverage extension (Relaying) with its 4G/5G wireless backhaul link
Different applications of MX-HUB for developers, vendors, and Operators
IoT, Public Safety, Moving/Relay 4G/5G, coverage extension, connected robots/UAV.
Data collection mule
Private networks and services with a limited scope form the public operator
IoT on far-end of the network reach with network coverage extension
Rapidly-deployable networks where the infrastructure is sparse or nonexistence
Integrating traditional networks into high-tech clouds
Need more features?
Case 1: If you need a development, test and measurement environment, You can either use Open RAN studio product or use the MX-PDK product.
Case 2: If you plan to setup a concrete PoC prototype in the lab (TRL4) or MVP in a relevant environment (TRL 5 or 6), then you may need the MX-PDK product.
Case 3: If you plan to deploy a 4G/5G network with or without Open RAN in an operational environment (>TRL 7), then you may need the MX-PRO product.
Case 4: If you plan to setup an all-in-one 4G/5G network in a box or extend the coverage in Case 2 and 3, then MX-HUB is the product your are looking for.
Case 5: If you plan to connect a soft 4G/5G UE to your network or need a customize a 4G/5G UE in Case 2 and 3, then you may need the MX-UE product. Please contact us.
---
Need more information ?
We recognize that each deployment scenario has unique needs, and that the solution must be tailored, adjusted, and tested in its intended environment. To assist you, we need to assess your requirements and assist you in finding the best solution.
Need more information on MX-HUB, an Industrial-Grade Private 5G LAN solution in a Box, or a quotation?